A manufacturing update part 2
billyboyclyde
Hi there everyone, Brendan here with another manufacturing update. We will break it up into two sections, first, the first batch and then the main April batch. I will be talking about some specifics and also putting up photos.
Batch 1
Overall Status: On time for first delivery with a 3-6 day delay between printers 30 – 160. Meaning, we will be producing on time for the first 30 printers and then there will be a 3-6 day delay and then smoothly for the rest.
Reason: A well known supplier from the States for some of our parts (we will not mention names here) short sent some supplies. We ordered enough for 200 printers but they had an error on their end and sent enough for 30 printers.
Corrective action: We are immediately sourcing for local suppliers for these parts and hope within a week we can purchase them to fulfill the build. Issue is that the parts we ordered are specific and prepared for our use. The supplier "promised" us of a max week delay before sending the other inventory which they missed out.
General supplies: All required inventory has come into the warehouse for manufacturing use. The only one we are waiting for now is filament. The filament has arrived in from customs and will be sent to our warehouse by the morning of 10th Feb.
Photos from production:
BeeDee PCBA Testing and Programming
The two electrical guys at the factory
StepStick Testing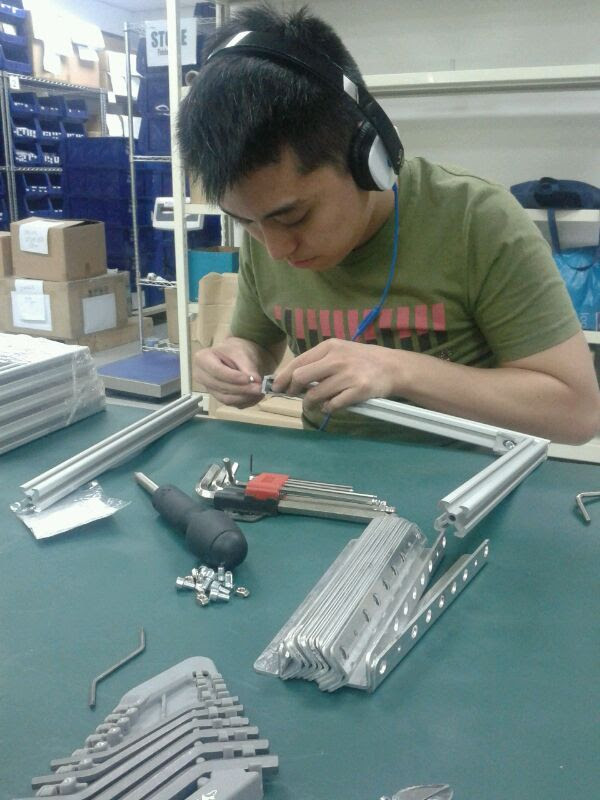 One of the founders piecing together the printers
Chairman with the first package
Buccy and Packaging side by side (Sorry for blur photo)
Back of Packaging (With a sticker covering something we cannot have yet)
The mechanicals coming off the line #1
The mechanicals coming off the line #2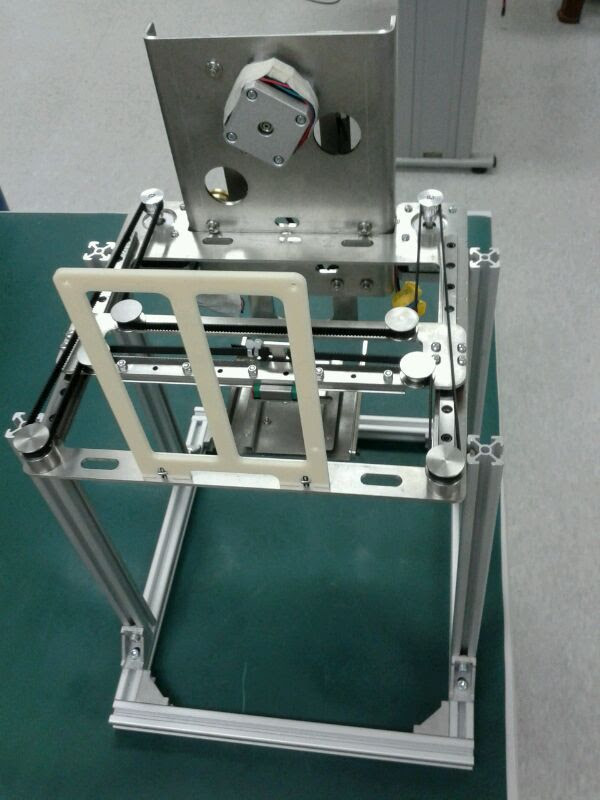 The mechanicals coming off the line #3
 April Batch
Overview: I have set a date of 25th April for the first batch of printers to ship out. This date is dependent on 3 things.
1) Electronics
2) Suppliers hitting agreed dates
3) Certification
Electronics
Overview: We are moving away from the PI and going to use the Cubieboard as a bridge solution until we come up with our own boards for Buccy V2.
Actions taken to make this happen: I have hired an embedded systems engineer to assist our 2 guys to work on the Cubie board.
What is going on now: They are working on the bootloader and kernel (I readily admit I have no clue what this means, I am no electrical engineer). Their reports seem that everything is going smoothly and on time.
Suppliers
Overview: We have placed most of our orders in already and hope they can hit their 8 week lead time promise. We are learning as we go and are very active in dropping suppliers who do not meet promises and searching for those who do.
What is going on now: Pirate3D Hustle. That's what is going on. Getting the prices we want in the timing we want. I notice laying a loaded flintlock pistol on the desk during discussions help a lot. Swinging my cutlass around also usually produces a 5-10% discount.
Certification
Overview:  Certification is a tricky one. We are applying for CE, UL, FCC, some I can't remember the abbreviations for but for Japan, Korea, Russia etc etc. Certification works like this, minimum 8 weeks lead time.
2 weeks EMC test, 6 weeks Safety test.
What is going on now: First you have to know this. Any "major" changes in mechanical design and electronics voids all certifications. Meaning the units we send in for certification has to be almost like the April build.
This is why we were unable to send the units in for certification earlier, even if we did get the certifications, by adding in auto leveling would void them all.
Actions Taken: For us to hit the April 25th Shipment, we have to submit the 2 units (1 for EMC and 1 for Safety) by the 21st Feb. We are going to take 2 spare units from the Jan build and modify it close to the April build and submit them. This means we have to get the Cubie board working well, the heated platform installed and safe and also the auto leveling system which we are working on now.
Our only worry is that the auto leveling system will not be fully functional by the 21st Feb but we are trying our very best to make this happen.
Some certifications take longer than others to approve, so we will send out the shipment in steps should some certifications be held back. EG if Russia takes 1 week more to approve than CE, we will send the printers to EU/USA first and then to Russia after her certification gets done.
What could go wrong: We fail the certification. I have invited staff members from our certifying organization (TUV) to give initial opinion on the printer to ensure we have the best chance possible for this. But there is always a minute chance that it may fail. If it fails, we will resubmit ASAP after re-work and this will/may cause delays in the final shipment, EG if we fail on a final test and they notify us on the 24th April then that will be an issue.
The chances of this are being minimized as much as we can make it to be but it is good that we inform you and let you know we are all walking into this eyes open and taking every chance we get to make it work.
Extra Filament
Many people have asked us how to order extra filament. Right now we are in talks with Amazon to see if they can help us fulfill this function. We are a tech company and do not really want to go into logistics. Will post more updates on this as it develops. We are also in talks with other 3PL providers just in case Amazon goes down the drain.
Warranty
I spoke to my team about this and made a decision for this:
First batch printers: DOA warranty
Main batch printers: 6 months manufacturer's warranty
However to be fair to us, if you feed in any other filaments except the ones you get from us or tamper with the machinery in any way, then you void the warranty. Same like any other company out there which sells printers.
What to look out for
Soon it will be time to select filament colors for those who purchased extra for April, this email will go out soon and I will write another update for this.
Alright will end this update here and enjoy the rest of my Sunday at the manufacturing house watching the electronics go into the mechanical bodies. Catch you all next week!
Warmly,
Brend